Spring & Fall Hunts Available
Hunting Black Bear in Newfoundland is an experience you'll never forget!
Newfoundland has enormous Black Bears. Ray's Hunting & Fishing Lodge is the area to obtain a Book Bruin. Hunters frequently bag spring bears, reaching the 550-lb. class.
Bears with an estimated spring weight of over 700 lbs. and front pads exceeding 7 inches have been sited, just like the one in the photo below, making our hunting area the possible home of the next world record Trophy Black Bear!
We provide both baited stand hunting as well as spot and stalk during the spring hunt. Fall bear hunts are spot and stalk.
Spring Rifle and Archery: June
Fall Rifle: September – Early November
Fall Archery: Two weeks earlier than rifle. Late August – mid-November
An awesome adventure for black bear hunting enthusiasts:
Free coyote hunting while the fall bear license is valid.
2-bruin limit spring and fall.
Success rate spring hunt – 90%.
Multiple bears at many baits guarantee hunter selectivity.
Trophy bear opportunities, low hunting pressure.
Six-day hunt (arrive on Sunday; hunt Mon – Sat; depart Sunday)
Air-conditioned meat storage on the premises.
Meat drop-off and pickup from a professional abattoir (vacuum-packed).
Fishing services and licenses are complimentary with the Spring Hunt.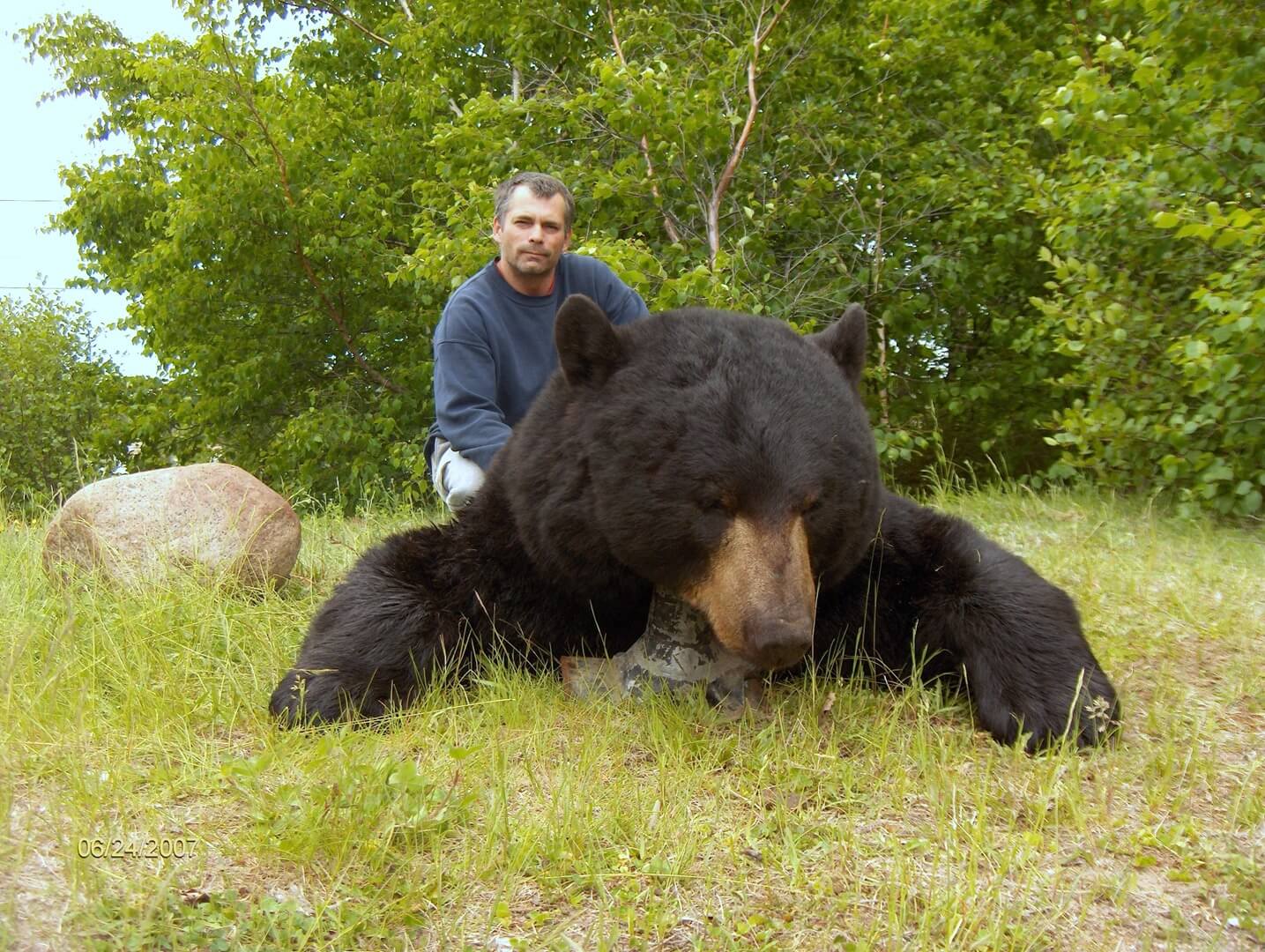 Guide Paul Broughton with a Monster Trophy Black Bear harvested at Ray's Hunting & Fishing Lodge.